Vihtavuori 3N37 Smokeless Gun Powder Description
Vihtavuori Smokeless Powder is used by some of the best shooters and manufacturers in the competitive shooting industry, and they have earned a well-deserved reputation as one of the best smokeless powders on the market today. Clean burning and repeatable shooting properties are guaranteed with all of these powders in all weather and shooting conditions.
Vihtavuori Smokeless Powders ( Vihtavuori 3N37 ) are renowned for their consistent and excellent quality, which is achieved through complete control of the entire production chain, which begins with the production of nitrocellulose and ends with the bottling of the finished product.
For more than 85 years, these strict quality acceptance limits have enabled reloaders and cartridge manufacturers to achieve consistent loads regardless of the production lot used in their production. It is easy to understand why Vihtavuori Smokeless Powders have earned such a prestigious reputation among top-level shooters all over the world.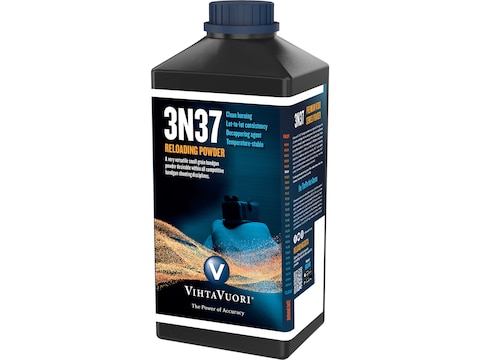 Powders in the N300 series are single base porous powders designed for handguns. Originally developed for.22 rimfire cartridges, Vihtavuori's 3N37 handgun powder has proven to be extremely versatile and desirable across a wide range of competitive handgun shooting disciplines. Vihtavuori's 3N37 handgun powder is manufactured by Vihtavuori. A tubular, porous powder of the 3N37 variety is produced with grain dimensions of 0.06 mm in length and 0.06 mm in width (length x diameter). Using powder measures, the symmetrical grain size makes it simple to meter the powder accurately.
The burning rate of 3N37 is comparable to that of N350 and falls in the middle of the range for handgun powders. In IPSC open competitions, this powder is an excellent choice for 9 mm major loads, and it is also very popular in the practical pistol shooting disciplines of the USPSA and IPSC.
In addition to its use in practical shooting, 3N37 is also widely used as a submachine gun powder, according to the manufacturer. 3N37 provides consistent, extreme precision, and clean burning – which is why it is used by the world's best shooters. 3N37 offers consistent, extreme precision, and clean burning.
Additional Information of Importance:
Do not load the cartridges with more than the maximum loads specified in the reloaders guide.
There should never be any mixing of two powders, regardless of the type, brand, or source of the powders.
Never substitute any other smokeless powder for black powder or any other substitute for black powder.