CVA Wolf
CVA Wolf is the newest member of the CVA family and our most reasonably priced break-action muzzleloader.
The LOP-adjustable, fully ambidextrous stock makes this the ideal firearm for shooters of any hand.
CVA's Wolf QRBP (Quick-Release Breech Plug) is included in the CVA Wolf  V2 as well; it is the only breech plug on the market that can be removed without the use of any tools.
Just a twist of the fingers is all it takes to extract the QRBP, even after 20 or more shots.
The stock of the Mare's Leg is made from high-quality American Walnut and is hand-carved to match the exact dimensions of the Henry Rifle featured in the show.
Enjoy the thrill of firing off rapid-fire repeating shots like Steve McQueen did with ease thanks to the large loop lever and legendary crisp Henry action.
The Mare's Leg's tubular magazine is designed for quick reloads, so you can keep firing all day long.
Product Overview
Put any other "speed breech" system to the test!
Plus, the breeching button, which is located in front of the trigger guard, makes opening the break-action breech a breeze.
The WOLF V2's barrel is not blued carbon steel like other guns in its price range, but rather corrosion-resistant stainless steel, making it compact and quick-pointing.
Moreover, models can be had with either an integrated scope mount (DuraSight) or open fiber-optic sights.
All WOLF V2 models come with CVA's solid aluminum PalmSaver ramrod as standard equipment.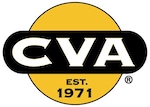 Specifications
Product Information
| | |
| --- | --- |
| Black Powder Caliber | 50 Caliber |
| Weight | 6.15 Pounds |
| Barrel Length | 24 Inches |
| Twist | 1:28″ |
| Stock Type | Ambidextrous |
| Stock Material | Synthetic |
| Barrel Finish | 416 Stainless |
| Sight Type | Scope Mount |
| Ignition Type | Primer |
| Stock Finish | Black |
| Scope Included | No |
| Breech Plug | Quick Release Breech Plug (QRBP) |
| Length of Pull | 1 Inches |
Delivery Information
7.820 Pounds